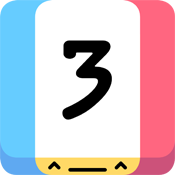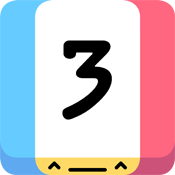 A real surprise, this one, which literally only displaced my original choice for the fifth spot, Monument Valley, in the last few hours, having been a post-Christmas purchase in light of its presence on a couple of other lists.
Even now that puzzle games are my iPhone distractions of choice, most of what I play is a variation on a classic theme – falling blocks, matching blocks, unscrambling letters, or picross. I'm not sold on the format for most long-form experiences but find it undeniably the platform of choice for time-wasting puzzlers. It's usually to blame when my homeward commute has to be passed without podcasts after I've blown through the battery.
Threes is the closest thing in the puzzle realm to being completely new that I've touched upon in a while. It's a bit of a maths game, a bit of a sliding tile puzzle. I know being difficult to explain succinctly isn't often an indication that a £2 puzzle game is a winning formula, but trust me here. Watch the demo animation on the official site and it should become clear. Games are finished quickly, making it a great time-waster, and the advanced strategies are there for those with a sufficient head for numbers.
My high score is 3,078 at the time of writing, with a mere 750,000 required to get you into the top ten and a credulity-stretching 1.8 million sitting on top. Not bad for a game that starts off tasking you with calculating 1+2.