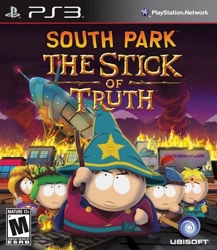 The South Park games are an eclectic mix, from an FPS in the days before everything had to be an FPS, through kart racing, game shows and tower defence. An RPG must have been the obvious choice, then, thankfully after they had the revelation that South Park games work better when they look like the TV show.
But even despite the turmoil that accompanied the development, from THQ's bankruptcy to the frankly shameful censorship – I imported the unsullied version, naturally – it turned out amazingly well. It's fun, funny, authentic, and unlike many turn-based RPGs, it doesn't outstay its welcome. With my reduced gaming time coming into frequent conflict with my love of a genre that thrives on lengthy narratives, words cannot express how much I appreciated a traditional RPG that I could finish in 15 hours.
It's the fact that it was funny that stood out most, though. From the ludicrous summons to the creative trophies ('Are We Cool?' and 'Heisenberg' are favourites), through the obsession with anal probing, dodging swinging ball sacks and the way the Nazi zombies speak in incomprehensible snippets of Hitler speeches, it's often hilarious when most games can't raise a chuckle. Even if the game had sucked, which it absolutely doesn't, I'd have happily endured through the running time to soak in all the humour.
Happy new year, everyone. May it be better for gaming than the last one.