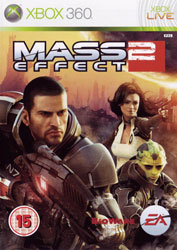 I know for a fact that many of the first game's most ardent fans will disagree vehemently with this, but for my money Mass Effect 2 will stand as one of the primary examples of how to improve on a game for its sequel. It may have jettisoned some of the RPG ideals of the first game, but I found its attempts at streamlining perfect, creating a brilliant action-RPG – emphasis on the 'action' – with one of the best open-ended stories in recent history. The important thing is that what the first game did best – creating a wonderfully vibrant and believable sci-fi universe – was preserved and expanded.
There's a slim line between streamlining and dumbing down, and I think Mass Effect 2 is an example of it done right. While it was now more limited in being able to explore hundreds of largely redundant rooms on the Citadel, for instance, what was there was more detailed, more populated, and felt more like a real galactic capital. You couldn't land on every planet any more, but the ones with missions were more unique and often looked beautiful, rather than constructed from a handful of set assets.
One area where I'll give the first game a slight edge is in its story, as I liked the mystery around Saren and Sovereign more than this game's Cerberus and Collectors, but the execution of this game's finale was leagues ahead of anything in that game. The wanton way in which it would kill supporting characters, even making it possible for Shepard himself to not survive for Mass Effect 3, was extremely brave, the knowledge that it was possible for everyone to make it back alive – managing that was one of my proudest gaming achievements, definitely – made any deaths really hit home. It forced you to delve into everyone's back story, which also made you care and caused every loss to hurt.
Mass Effect 2 is yet more proof, then, that Western developers are now the ones to watch when it comes to RPGs. BioWare had the courage to massively overhaul what was already a minor classic, and in doing so created what must go down as one of the generation's best games. Bring on Mass Effect 3.