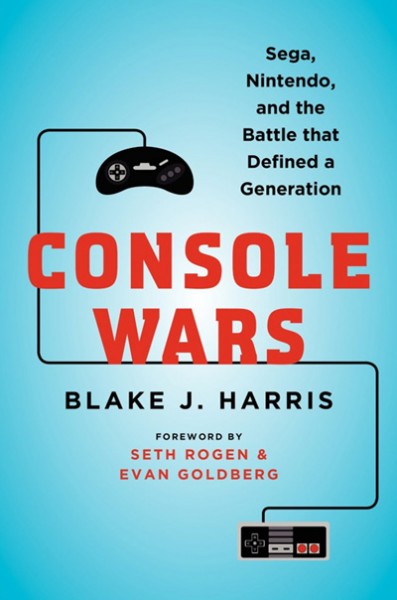 As much as I love my well-thumbed copy of Game Over, it's over 20 years old. Its account of Nintendo's rise lacks two decades of changing perspective, context, new information that has emerged as people retire, move on and, separated from events by years and expired NDAs, give increasingly candid interviews. It's from a world where the Atari ET landfill story is apocryphal.
Console Wars' chosen subject is different, coming in when Nintendo has already risen to its zenith and concentrating on the competition with Sega in the early 90s. There's none of the smart, nimble Nintendo that came out of David Sheff's book; this is the empire whose monopolistic tendencies alienated enough third-parties to create the way in that Sega and ultimately Sony exploited.
There's a major movie in development (at Sony Pictures, amusingly) based on this book, hence the foreword by Seth Rogen, which is extraordinary to me. There's the kernel of a film here – indeed, everyone knows the snappy line to win an argument in a way that no one does in real life – but while The Social Network proved that the rise of a major tech company can make a fascinating cinematic experience, Blake Harris and the team behind Superbad aren't David Fincher and Aaron Sorkin. Time will have to tell on that one.
The book itself is solid but unspectacular. The aforementioned tendency for everyone to speak like polished movie scripts can grate, as can the Hollywood stereotypes that uniformly present the Americans as hard-working creatives and the Japanese as stoic, conservative and petty. It may be true that Sega of Japan was the architect of Sega's post-16-bit downfall, and the book makes a convincing argument for this viewpoint, but a bit more nuance would have been nice.
But I still learnt a lot, even as someone who grew up consuming everything I could about gaming in this period. Did you know, for instance…
…that Nintendo was once so big that it accounted for 10% of Walmart's total profits?
…that Sonic 2 was both the first global launch and the first set-in-stone release date in gaming history?
…that Sega passed up the opportunities to release the hardware that would become the PlayStation and the Nintendo 64?
…that Sega's Tom Kalinske was responsible for the Nintendo-Silicon Graphics relationship that gave us Donkey Kong Country and the N64?
…that Sonic's iconic silhouette was achieved by combining Felix the Cat and Mickey Mouse? And his middle name is actually 'The'?
…that the born-again Christianity of Konami's president turned Dracula Satanic Castle into the more enduring and Jesus-friendly Castlevania?
…that the US government's antitrust lawsuit against Nintendo was completely by accident filed on the 40th anniversary of Pearl Harbor?
Those little snippets are the kind of things that I lapped up. There are enough of them sprinkled liberally throughout that I was willing to overlook the liberties taken by the author. Well worth a look for anyone who honed their debating skills on the school playground in the early 90s.
Game Over's still the daddy, though.