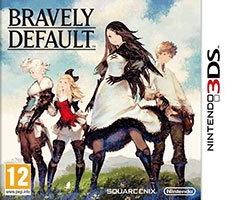 A lot's been written about how JRPGs in general and Final Fantasy in particular have gone off the rails in recent years, but it frequently seems to escape the notice of such editorials that portable RPGs have thrived. While Final Fantasy stuttered on consoles, minor classics like Radiant Historia, The World Ends With You, Jeanne D'Arc and innumerable Shin Megami Tensei games have shone on the last two handheld generations. Dragon Quest saw where the action was, and now Final Fantasy does. Kind of.
Square Enix got cold feet, instead making this the spiritual successor to a minor Final Fantasy spin-off, but it doesn't take long to see where its roots lie. Familiar enemies, items and tropes show up in a world that blends Final Fantasy IX – an easy way into my heart – with the style of the DS Final Fantasy remakes.
Some late subversion of various RPG stereotypes aside, it's disappointingly conservative – more old-fashioned than nostalgic. But as a fan of classic JRPGs, I had a great time with it. It makes some clever use of StreetPass; it's beautiful, making subtle use of 3D to add depth to its watercolour environments; and the return of the job system is welcome, since it's one of my favourite character development systems that got left by the wayside for some reason.
JRPGs as big budget entertainment burned brightly but lasted only two generations. The likes of this show where the real talent has gone.