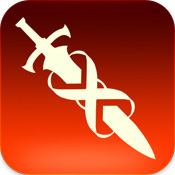 Since the App Store launched, it was only a matter of time before someone got their act together to create the perfect confluence of handheld hardware power and touchscreen-focused game design. Truth be told, there have been a few contenders on iOS this year, but I think this really deserves to be the first.
It is, of course, graphically stunning. Ridiculously so, in fact, on an iPhone 4's screen, and that it was able to make people forget about Rage within days of id's game's release says something. But beyond that it's a great little RPG lite, designed to be played as you might play a game on a phone – that is to say, for a few minutes, which is enough to get in a few fights – and just as at home if you're pumping a couple of hours into grinding and mastering every item. Word is that it started out as a concept for Kinect, and although I can see that working, it's better suited to a portable. Getting me physically tired is probably the quickest way for me to get bored of it.
With more content already arriving and some significant expansions promised, I fully anticipate this being a mainstay of my iPhone for some time, and for more than a graphical showpiece for when I want to show off. Chair has also batted two for two as far as my lists go since the beginning of its relationship with Epic (see: Shadow Complex), and even if its future is in classy short-form downloadable releases while the parent company does the big jobs, it's rightly cultivating a reputation that makes people sit up and take notice when it unveils a project.
Maybe this year will be the one where iOS devices start getting taken seriously as portable gaming systems, because when put next to my DS and PSP in 2010, in terms of play time it wasn't even close.