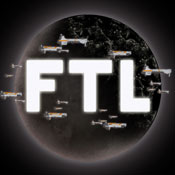 Whatever you might think about it, Kickstarter was arguably the biggest thing to happen to gaming in 2012. The big guns are moving in and seemingly doing their best to ensure that it's a short-lived revolution, but for a while there publishing seemed democratised as interesting concepts that wouldn't have had a hope at finding a traditional publisher enjoyed millions in funding. Adventure capitalism, I'm going to call it.
Thanks to some laughably optimistic schedules, few of the promised Kickstarter-funded games are here yet, and I hope that my best of 2013 will be filled with the wealth of point-and-click adventures and old-school RPGs that coaxed money from my PayPal account. One made it, though, and it was good.
FTL has become my favourite skiving game. It's frequently running in a window behind a few browsers and Word documents, the way it can be paused indefinitely and still allow you to dish out commands perfect for a few stolen moments here and there. I've had crews named after friends and family; coworkers; the crews of the Enterprise, Serenity, the Millennium Falcon, the Pillar of Autumn; sports teams. Swear words too. They've all died horrible deaths, at the hands of the enemy or a solar flare, and the most successful are remembered, but the grief passes and I come back for more as soon as I come up with another interesting naming system.
The ability to keep playing without any real time commitment has a way of keeping games in my rotation for months, and so it has proven here. While FTL will be ineligible for my Best of 2013 list, then, that's not to say it won't remain a regular on my computers until then. Fingers crossed that it won't be the only appearance of a crowdfunded project in one of these lists either.
Silliest name since DmC: Devil May Cry, mind.