Motion gaming has been and gone, I hope, and it seems like the fad to see us into the next generation has been chosen, and it's secondary touchscreen inputs. E3 2012 had its fair share of horrors, but I don't think this is one of them and, oddly, I think Microsoft has the best implementation. The Wii U led the way and the PS3 will shortly gain the ability to use the Vita as a PS3 controller, while Microsoft unveiled a software solution in SmartGlass.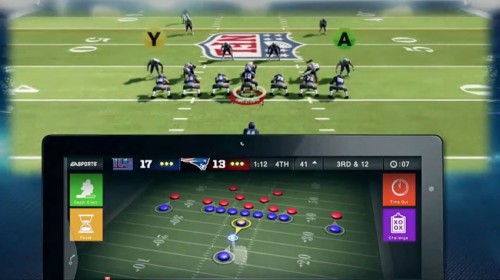 Some of what SmartGlass will do will depend on what the companion apps support, but assuming it has some kind of 3D capability, it has all the upsides of the other platform holders' efforts and none of the downsides.
First of all, it works on devices that I and many others already have. I wouldn't have put it past Microsoft to limit it to Windows Phone or Windows 8 tablets, but putting it on iOS and Android was a masterstroke, meaning pretty much anyone with a penchant for tech already has a piece of SmartGlass-enabled hardware. The Wii U obviously requires a whole new console and the PS3 puts the functionality on an expensive handheld with a questionable future. An iPad or other tablet has a higher cost of entry, true, but they have applications far beyond games and people already own them in huge numbers. I had SmartGlass in the room three years ago without even knowing about it.
The second point applies mainly to Nintendo's way of doing things. The Wii U GamePad has an increasingly long list of caveats – not least its negative effects on game performance – and isn't even that technically advanced. It still uses a resistive touch screen, for instance, which was ancient tech when it appeared on the DS back in 2004, while even the cheapest Android tablet will have a multitouch display.
SmartGlass, on the other hand, suffers from none of these. We don't yet know to what extent it'll be able to leverage the graphical grunt of its host hardware, but the GPUs in decent tablets aren't inconsiderable, and if SmartGlass is allowed to use them we could have similar full-fat second-screen functionality to the Wii U. It doesn't have to be limited to glorified menus, without throttling the main hardware like driving a second screen on Nintendo's machine seems to do. And my iPad will do this with a ten-hour or more battery life, versus the 3-5 that Nintendo's official figures present.
Most of all, though, my enthusiasm for the idea of personal gaming screens like this is because it's another example of how far ahead of its time a certain system was. Never forget.