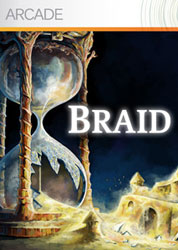 To say that this one came out of nowhere is an understatement. I'd barely heard of it before I showed up on Live Arcade, a trail of impressive reviews in its wake and podcasts and blogs across the land erupting in praise and talk of 'symbolism', again bringing up that godforsaken 'are games art?' debate.
I may not know art, but I know that I like this. While it may be short, it's a completely ingenious game, with such incredibly well-designed puzzles that there's nothing in there that a day or two off and a return with a fresh mind won't cure. If you're trying to collect a piece with great feats of complicated dexterity and precision jumping prowess, chances are you're doing it wrong.
Every world had its own gimmick that was completely different from every other and could turn the gameplay on its head, and yet it all seemed to fit together into a cohesive hole.
I wasn't a huge fan of the much-lauded art style, but I loved the choices of music and, most of all, the story. Tim's quest for his princess made no sense at all for five of the six worlds, and even in the final one an explanation remained elusive until the final sequence, which is still one of gaming's few great rug pulls. I encourage you to experience it for yourself, but failing that check it out here.
Considering how long the game had spent showing off its ability to warp time around you in creative ways, seeing it do it one last time remained the most shocking of all.