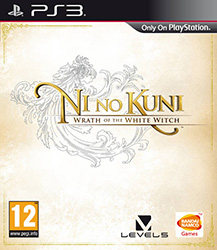 Did I say that big budget RPGs were dead? OK, I lied. They're only mostly dead. Think of this as the last hurrah before Final Fantasy XV comes along and introduces a cover system, surely representing the death knell for the genre.
I'll admit that my love for Ni No Kuni is mostly skin-deep. It marries Level-5's cel-shaded style, seen previously in games like Rogue Galaxy and Dragon Quest VIII, with Studio Ghibli to stunning effect. It tickles the nostalgia gland through its animated aesthetic and young-boy-on-an-adventure story that's straight out of an 80s family film. And playing a voiced game with a character called Oliver is like something from the future, where speech synthesis is of a standard where naming the protagonist after yourself does more than personalise the name of your save file.
It was enough, however, for extremely traditional JRPG tropes, supported by a bit of Pokémon catch-'em-all-ing, to keep me at it for over 50 hours, which doesn't happen often. I adored the wonderful world in particular; I frequently cite the standard of its towns as being the ultimate barometer of an RPG's quality, and Ding Dong Dell and the Fairyground are right up there.
What Ni No Kuni lacks was never enough to dilute its charms for me, and so it remains one of the few shining lights among last generation's crop of JRPGs.