The movie could be wank, despite how great the latest trailer looks (remember The Phantom Menace?), but I'm sure even those Transformers fans who have fallen farthest from the tree can't fail to be excited by the potential for big screen spectacle and a new generation of toys. I won't mention the Bay if you don't.
Like any good fanboy I've been buying the new stuff, encouraged by the current BOGOHP deal on Transformers in Toys R Us. And this isn't counting the three versions of the original movie that I now own (original DVD, 20th anniversary DVD, ultimate tin), my old toy collection, Dreamwave G1 comics, and the splendid 20th anniversary Optimus Prime that I nabbed from eBay.
Movie Leader Optimus Prime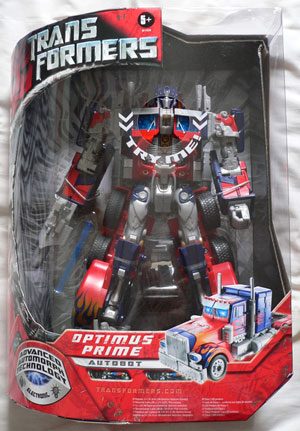 I think this guy looks better than the actual movie iteration, even if he's no G1 Prime. Similar size to my 20th anniversary Prime and with flashing lights and sounds so that you know that he's from the 21st century.