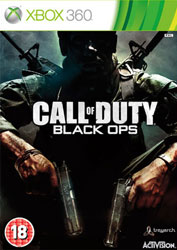 It may be fashionable to hate this series and, frankly, quite sensible to hurl some well-deserved opprobrium at Activision, but there's still nothing better when it comes to the Michael Bay style of action. While Halo is, I maintain, better at actually engaging the brain, Call of Duty is still the place to go for a shot of adrenaline.
And with Black Ops, Treyarch is the closest yet to creating a game that stands up to Infinity Ward's offerings. The series' high points, Call of Duty 2 and 4, still stand head and shoulders above the rest, and yes, the plot is spectacularly stupid, but I had a lot of fun with it. Even though I mourn the apparent death of the series' realistic bent, the campaign is well put together and I've probably had more fun with the multiplayer than I have since those heady days when the scope of COD4's popularity was becoming evident.
It even improves on Modern Warfare 2's extensive package in areas where fans complained, showing that in Treyarch we might have a competent developer that mercifully lacks the hubris of its related companies. Dedicated servers? No prescriptive 'we know better' comments from the studio – Treyarch just did it. It's almost endearing.
Even if I'll never be happy with Activision's insistence on "exploiting" the franchise on a yearly basis – maybe more in 2011 – if standards are maintained and the games can continue to move forward, I'll be content to drop my £40 each year. Just please don't make it more than that.