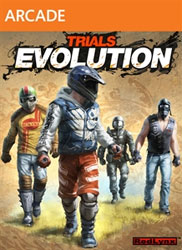 This hasn't been a banner year for Xbox Live Arcade, and indeed by many accounts it's been PSN that's had the most interesting releases. Trust a sequel to one of Live Arcade's brightest gems to keep up appearances on Microsoft's platform, and it's an example of how a sequel should be done.
How so? Well, it's the original, only better in every way. There wasn't a huge amount of variety the first time around, whereas this one took in warehouses, countryside, towns, and the now-compulsory levels based on other indie darlings. Despite simple appearances, it's technically very impressive too.
That Gigatrack stage took me an embarrassing 22 minutes the first time through, incidentally. It became a priority to post a more respectable time, but it's quite a time commitment even when you do well.
Trials is endearing mainly because of its purity. It's basically one trigger and a stick, but the way it harnesses its physics and makes use of the full range of motion on the analogue inputs – I'd argue that I haven't been as aware of the fine-grained control to this extent since Super Mario 64 – makes it both accessible and frighteningly deep. One of the masterstrokes is how it shows the progress of friends overlayed on your game, which, unless you socialise with the savants who post ridiculous times on YouTube constantly drives you forward. This is an approach to high scores that I first noticed in the superlative Geometry Wars 2 and still hope for it to become the standard.
It was a shame how thin on the ground great XBLA games seemed this year; I hope the relative dearth of innovation is a mark of development switching to new platforms rather than, as part of me suspects, a sign that the interesting indie developers have moved to other platforms in the last couple of years. But if this does prove to be a last hurrah for the service, it's a fine way to go out.