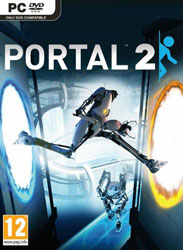 Valve was robbed by a last-minute goal here. Portal 2 comfortably led the race to be the best game of the year for much of the calendar as we suffered through the paucity of releases, only being pipped when other great developers got their arses in gear and, you know, actually released some games.
Had it gone the distance, though, Portal 2 would have been a worthy game of the year. It expanded a wonderful little idea from The Orange Box into a full-price game without losing any of the charm, and in my book it finally put to bed that old debate about whether games can be funny. It did it intelligently too, not relying on the small pile of overused memes that the original left in its wake – no cake and only a cameo for the Companion Cube – and through a script that's far too good for a mere game.
My favourite joke? The way it even gets the system-level notifications in on the gag in The Part Where He Kills You. That's wonderfully self-aware, up there with when Batman: Arkham Asylum made me me think my 360 was red-ringing again and when Eternal Darkness would simulate technical failures for games breaking the fourth wall without simply copying the movie's methods. Valve did that for drama in Half-Life – no showing you a movie to advance the story there – and now it's done it with comedy. That company is doing more to advance gaming as a storytelling medium than any other.
Full credit, also, for Valve extending its famous generosity to us console peasants, at least on the PS3. Getting a PC and Mac version thrown in with cross-platform functionality was a brilliantly good idea that showed how forward-thinking Valve is, and also illustrating one major benefit of a more open online suite like PSN. If only there were more Steam for PS3s and fewer Metal Gear Onlines when developers are given such freedom.