I don't tend to buy games used unless it's unavoidable, which I suppose makes me fairly indifferent to the fearmongering that comes along frequently regarding the eventual prohibition of playing used games on consoles. Now that this could actually happen, I'd like to draw attention to my caveat in the previous sentence: unless it's unavoidable.
The last used game I purchased was the original Darksiders, which was a couple of years old at the time and not available new anywhere, as far as I could see. I wanted to play the game because of the good things I was hearing about its sequel, so I got a copy on eBay for around £5. I'd have happily paid £10, £15 for a new one, but that wasn't an option.
Availability of back catalogue games is a serious issue (see also: Pirates or Preservationists?), even beyond the way that the generational march and decline in backwards compatibility cuts us off from running yesterday's games on today's hardware. It doesn't happen with film, where just about any major movie from the dawn of cinema up to the current Oscar contenders is or shortly will be available to play on a shiny disc, and the same goes for music and books. I can find The Beatles, Beethoven and Jane Austen readily, even separated from them by decades or even centuries.
The next-gen consoles will likely offer all retail releases as downloadables for those who are so inclined, treating the symptom of availability, if not curing the disease that my PS4 likely still won't play my PS3 games. Hopefully, by the time we're looking at the next next generation, it'll be possible to log on to each system's respective online service and download a minor gem from 2013 that I might have missed the first time.
There's one problem, though…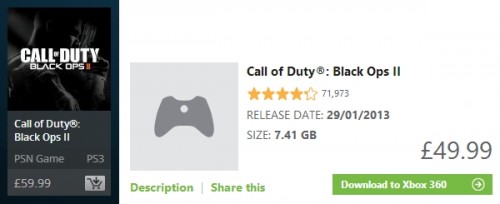 I don't trust the platform holders to loosen the reins on digital pricing in the way that Valve has done with Steam. They're too beholden to keeping retail partners happy to let publishers sell a game for 75% off mere months after release. Stories already abound of digital-only games being stuck to rigid price tiers or limited in what free content they can offer, as the platform holders – Microsoft in particular, it must be said – are out to monetise everything.
Or maybe I'm wrong, and cutting the used game market out will allow for more aggressive pricing of digital games. If books, music and movies going digital has taught us anything, after all, it's that publishers are keen to pass the benefits on to consumers, right?
The money men won't see the value in selling games for deep discounts, for not sticking to the American model where the RRP/MSRP is not so much a suggestion as a commandment. It's not like here where new games are routinely £10 or more under the recommended price on day one. Who actually pays £49.99 for a new Xbox 360 game?
A few exceptions due to licensing aside, every Xbox Live Arcade and PSN game released for their respective platforms is still available. They're usually still the same price as they were on day one, which kind of proves my point, but at least the issue of long-term availability of games could be close to being solved. That said, my experiences with always-online games haven't been good, and I can't help but think back to the odd enforced disconnections, like when I've moved home and had to wait to be hooked up, when I'd suddenly find my £50-a-time ways to pass the time being unavailable when I most need them.
Hopefully this turns out to be nonsense, because a console that can't work offline from Microsoft makes the choice of which next-gen console to buy first much easier.