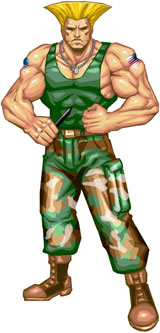 Speaking as a fan of Street Fighter III, which is a beautiful, deep, competitive game that didn't receive nearly the attention that it deserves, it really has nothing on its predecessor. A rough calculation tells me that I've already bought Street Fighter II three times this decade, and playing the new HD Remix has really reminded me of just how brilliant this game is.
Besides its better, more iconic characters that have gone on to become archetypes in themselves, Street Fighter II is a game that just never seems to age at all, no matter how many times I play it, and that amazes me every time I return. The lick of paint for the latest release obviously helps, but looking beyond graphics it's as much fun today as it ever was. Everyone must have at least some experience with this game, and you only have to play for a little while to feel at home again, even if you haven't played since it came out, which is pushing two decades ago. It's impossible to have 'just one more game', especially now that we have a version that works extremely well online.
What's impressed me more than anything, though, is how playing online has shown just how deep a game it is, even compared to one that is so deliberately tough to master as its sequel. People know every in and out of every character and move, and some of the high-level players you'll meet online can completely humble you, switching styles as they go and thrashing you, even with characters that I wouldn't touch with a ten-foot pole. Even after all these years I can't work out how to effectively play as a 'charge' character like Guile, and yet I can go online and be routinely humiliated by one of them. Such is life…
It seems like HD Remix has been timed to hype up a certain other fighting game due in February, and if that was indeed one of its purposes it's worked with me. The previews are coming out and suggesting that the talk about Street Fighter IV going back to the deep yet accessible roots of Street Fighter II, appealing in the process to both the hardcore and casual fans – that's 'casual' in the old sense, not the 'plays Imagine Party Babyz' kind – may actually be true. While that 'back to basics' marketing trick has lost its power not to make me suspicious after its repeated use on Sonic games, there just isn't a better foundation for a fighting game than this.
Because of this, no matter how good SFIV ends up being, it won't be its immediate predecessor that it's held up against. Aiming to succeed Street Fighter II is ambitious, given that even the best new fighting games struggle to be played for three years, let alone seventeen, but again, this is the sheet to crib from. I hope it succeeds, and I bought an arcade stick as evidence of my faith – okay, so HD Remix had something to do with it as well – but I have my suspicions as to which Street Fighter I'll still be buying with each new generation when 2025 rolls around.