The movie could be wank, despite how great the latest trailer looks (remember The Phantom Menace?), but I'm sure even those Transformers fans who have fallen farthest from the tree can't fail to be excited by the potential for big screen spectacle and a new generation of toys. I won't mention the Bay if you don't.
Like any good fanboy I've been buying the new stuff, encouraged by the current BOGOHP deal on Transformers in Toys R Us. And this isn't counting the three versions of the original movie that I now own (original DVD, 20th anniversary DVD, ultimate tin), my old toy collection, Dreamwave G1 comics, and the splendid 20th anniversary Optimus Prime that I nabbed from eBay.
Movie Leader Optimus Prime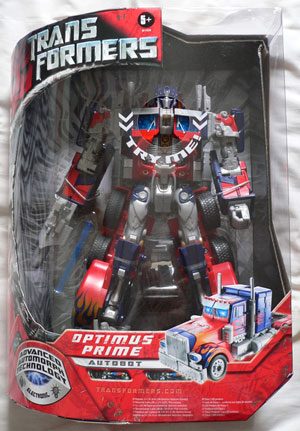 I think this guy looks better than the actual movie iteration, even if he's no G1 Prime. Similar size to my 20th anniversary Prime and with flashing lights and sounds so that you know that he's from the 21st century.
Movie Prequel and Adaptation Graphic Novels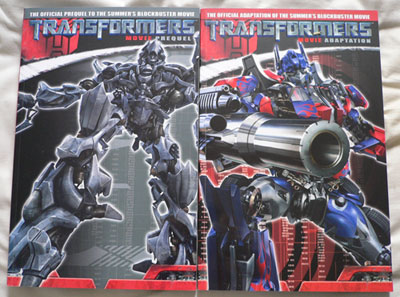 I caved in and read them both a couple of nights ago. I actually liked it, even if I can see the criticisms of the story from the press coming from a mile away. Not bad art in these and the prequel in particular sets things up well and doesn't suffer from having to cram in as much story as the adaptation.
Animated Movie Graphic Novel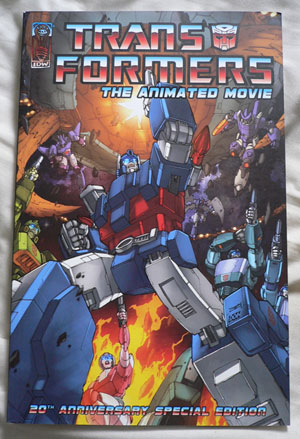 This takes a course much closer to the standard G1 comics, albeit again not quite Lee's standard, but gets a free pass for any inadequacies there by having Unicron. That makes up for the exclusion of the "such heroic nonsense" line…just about.
Aside from that niggle, this is an essential purchase for fans. Almost everything that was on screen is here, and this version adds a new scene to the Battle of Autobot City of Omega Supreme and the combiners going at it outside The Ark. It's one of the better cash-ins for the 20th anniversary of the old movie.
IDW G1 Trade Paperbacks
I've always been something of a Transformers fundamentalist – this makes Beast Wars, G2, etc abominations – but I think the film might have cooled my hostility towards the re-imaginings. The IDW arc takes a similar route to the Ultimate Marvel series in that it updates the G1 Transformers for a modern setting without being too overzealous. They no longer crashed here millions of years ago, for example, and have undercover agents here without our knowledge.
There are quite a number of TPBs so far – Infiltration, Escalation, Stormbringer, and Spotlight Volume 1 – which I admit that I don't like as much as the more faithful Dreamwave adaptation, but it's not bad stuff. I'm keeping the Dreamwave end up with the IDW reprints of their War Within series. A bit of light reading, then!
Revoltech Optimus Prime and Megatron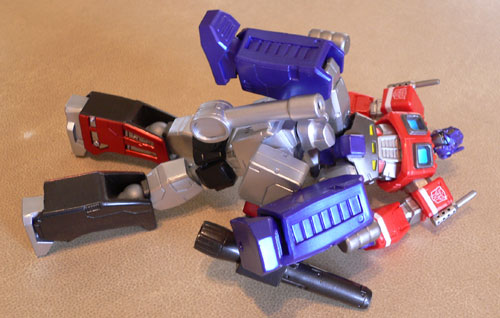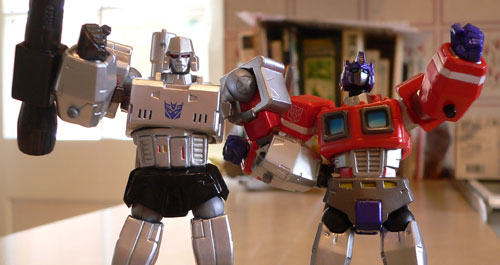 These are new Japanese toys and they're awesome. Based on the Pat Lee G1 comic designs, they have Revoltech joints and a load of extra body parts each so that they can be posed how you like, as evidenced above (a celebration of their movie royalty cheques?). Check out the reviews of Prime here and Megatron here.
Transformers Robot Heroes

Being that the original TV series had a Japanese name as great as 'Fight! Super Robot Life Form Transformers', it's only right that I have some super-deformed Transformers. These little guys are brilliant for ornaments and work out quite cheaply in TRU's deal. You'll have to source the right four from somewhere else though, since they're apparently not out here yet. I went with eBay.
I'm seeing an advanced screening of the film on Saturday. Please don't let it be rubbish.