Ever since GTA protagonists became actual characters with motivations, it's been walking a difficult narrative line. Vice City's Tommy Vercetti, the first real attempt, was largely successful given that he was a willing criminal sociopath, even if it could be difficult to square his need to keep a low profile for his burgeoning criminal empire with his tendency to steal tanks, slaughter police and FBI, and brandish rocket launchers. Though less of a caricature than his inspiration, Tony Montana, Vercetti was less believable unless players chose to play it straight, taking on the role for themselves.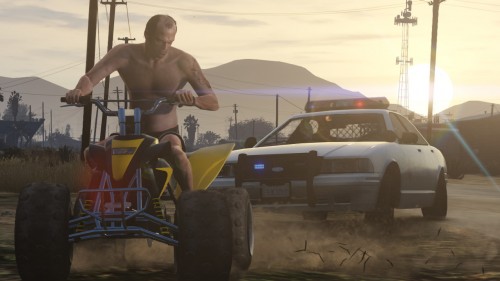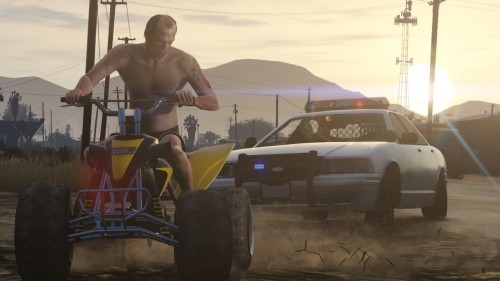 This only got worse through San Andreas and the extended GTA IV saga, which presented reluctant protagonists. None wanted to be drawn into the criminal world, forced to kill and steal, yet all did and all could be made to commit slaughter on an industrial scale. GTA IV's Niko Bellic was particularly guilty, both protesting his status as a killer without requiring much persuasion to go out and kill, and bemoaning his status as a poor immigrant while owning Algonquin penthouses and running around with $250,000 cash in his pocket. "Oscar-quality story" indeed.
I believe the somewhat poncey term these days is 'ludonarrative dissonance' – the incompatibility between a fixed narrative arc and player freedom. It's not a problem unique to GTA, but as a series that champions freedom and has put gaming's ambitions as a serious storytelling medium on its shoulders, the quandary is innate. We could see Rockstar experimenting with a way around it in Red Dead Redemption, which made violence and lawlessness inevitable in a violent, lawless world. John Marston could be played curiously bloodthirsty for a reluctant outlaw, but at least this was a world where running around with a gun didn't seen incongruous, and a game where the inability to escape one's past was a major theme. But how can it work in GTA's modern USA?
Enter Trevor Phillips.
He's a career criminal, so having a lot of cash stashed isn't a stretch. He's psychotic and so neither is a murderous rampage. He enjoys crime so getting pulled deeper and deeper into the criminal underworld is in keeping with the character. He's Canadian, so… well, let's not go there. He's also responsible for – spoiler warning – one of the most disturbing scenes in the series. In a game that hit headlines for one scene in particular, I found the aforementioned one far more unsettling.
In other words, he's the first GTA character who's reflective of how people play GTA. Even, arguably, better at it than the silent ciphers like GTA III's Claude, simply because he actually is a character.
GTA V is one of this generation's great games, and Trevor is one of its great characters. What's more, it's the second generation in a row with a loveable psychopath from one of its top adventures at the top of the list. Clearly, it's a pattern that works.