You can't deny that Sony has been worlds ahead of Microsoft and Nintendo in terms of digitally distributing its games this gen. Not only does PSN let me buy stuff in real money – incidentally, that makes me more likely to make an impulse purchase than one that requires me to work out how much I'm actually paying – it's also let me download 'proper', fully featured games. Warhawk, Gran Turismo 5: Prologue, Siren: Blood Curse, Burnout Paradise, and now WipEout HD – all impossible with Microsoft's backwards size limit for downloadable games and, for many reasons, impossible on the Wii.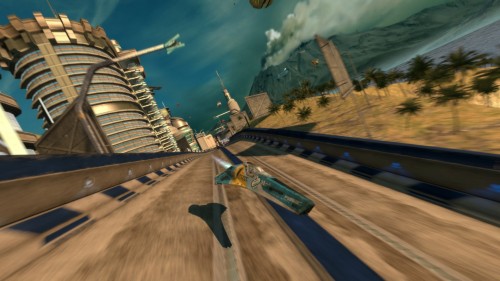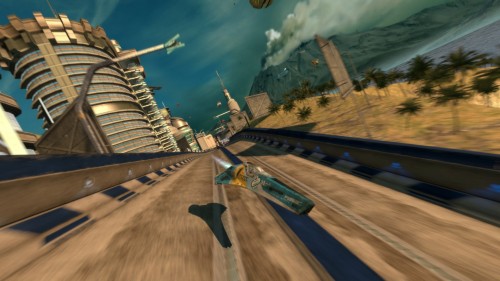 Mini-rant aside, WipEout HD is just the kind of thing that we should be getting as downloads. It's relatively slim on content with only a few tracks from the PSP versions, but it's 60fps at 1080p (almost), tight and addictive to play, and it's only £11.99. I defended the pricing of Braid when I posted about it, and while I appreciate that WipEout is less of a commercial risk than a self-funded indie project, this does kind of make it look bad.
WipEout's been something of a fringe series for a while now, having only two PSP games and a poorly received PS2 iteration since the series' glory days on the PS1, with most fans still considering WipEout 2097 – the American title, WipEout XL, sounds too much like washing powder for me – to be the high point. It's a shame because it was one of the titles largely credited with being responsible for the establishment of the PlayStation, and, quite remarkably, it's managed to remain both cool and futuristic over a decade later. The design work on show here was so far ahead of its time that real life hasn't managed to catch up yet. That's pretty much this series and Blade Runner that can boast that.
Of course, the design has always had a penchant for the eye-melting, and the fact that it's running so smoothly and is one of the few games to actually run in native 1080p gets a big thumbs up from me. This game benefits hugely from looking so pin sharp, and the frame rate is almost essential to making sense of the carnage when racing in the higher speed classes with weapons zipping about the place.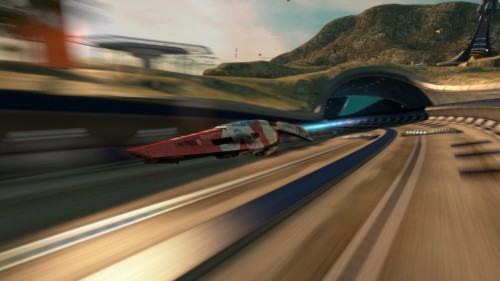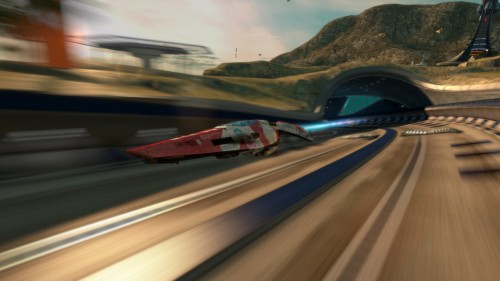 Like I said, it's a bit thin on the ground in terms of the amount of content, which is something you'll quickly realise after starting to repeat tracks within an hour of joining a good online game, and undoubtedly the low entry price will start to look a bit steeper when there's a DLC pack that adds another couple for a fiver, but that doesn't change the fact that this is a new, high-def WipEout game, as tight and playable as ever, for £11.99. Speaking of playing online, finding a good game without lag is as easy as it should be, which isn't something I've been able to take for granted with my PSN games. I saw no lag or connection errors whatsoever in my time with it.
If you've played a WipEout game before you'll find it's like riding a bike, and if you haven't… well, it'll become like riding a bike. WipEout Pure is, sadly, the only other game in this series that I've played for a serious amount of time – hey, I was a Nintendo fanboy in the PS1 days and the PS2 version didn't get the greatest reception – but it didn't take me long to get myself comfortable with the higher speed classes and even start to be competitive in the online leaderboards. This was on the first day, which is the only time it's actually possible to be competitive in online leaderboards, of course.
But nonetheless, as has become something of a mantra for downloadable games and their unique pricing structure you absolutely can't go wrong at this price. It's £11.99, and even if, as expected, we get a lot of content packs to drive the price up – it's worth noting, however, just how much free content WipEout Pure received, although that was a full-price game on a system with no digital distribution at the time – it's £11.99. Stop dallying and buy the thing.
(All screenshots in this post are taken from this NeoGAF thread. Copyright their respective owners.)