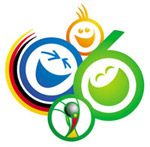 Hooray! The biggest sporting event in the world is underway and I now have at least 96 hours of football (the real one; not armoured rugby) to watch over the next month. I'm one of the 1.8 billion people watching Germany play Costa Rica at the moment (2-1 to Germany with 35 minutes played at the moment) and I'll be switching over to Poland/Ecuador in a couple of hours. The real moment of truth for me will be tomorrow when England play Paraguay.
Either way don't expect me to talk about too much else in the meantime. It's not like there's much to play at the moment, and even so I'd be dropping everything for this. Maybe I can hold a controller as I watch and pretend that it's next-gen Pro Evo.
Anyway, in my experience it seems that even in countries where football is the meaning of life, gamers are generally one of the more apathetic groups towards it. So is anyone else out there planning on watching all that they can, just watching their team, or avoiding it like the plague? Being American is no excuse.