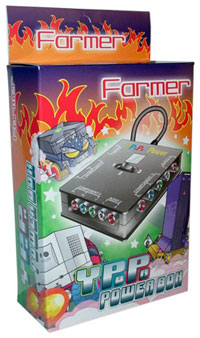 It's a bit of an annoyance with current HDTVs, caught in limbo between SD and HD as they are, that they have a host of legacy connections which are useful for running old stuff but look like crap, and only one HDMI, one component, one VGA, etc. How I'm going to manage when I have an HD STB, Xbox 360, PS3, Revolution, and HD-DVD player I'll never know…
I went looking for a component switchbox after having to rummage behind the set to switch between my PS2 and 360 one too many times, but found the prices so high that I'd have preferred to wait a year or so and spend £700 on a decent AV receiver that I can just plug everything into. Then I happened to be browsing Lik-Sang and came across the YPbPr Power Box, a switchbox for three component connections for only £10. Bargain.
Like a lot of the cheap Hong Kong brands that Lik-Sang sells it looks a bit gaudy next to the black and silver of most of my system, but I really can't fault it for the price. I'm running my PS2 at 480i/480p and my Xbox 360 at 720p through my one component connection with no quality loss, and flicking between them involves nudging a switch which is infinitely preferable to taking a mining lamp and canary behind the TV. If you have an HDTV and are suffering the same problem this definitely gets the thumbs up from me and is cheaper even than getting a VGA cable for one of the consoles. You can't go wrong for a tenner.
Plus how can you say no with box art that attractive?