As shallow as they are, I do rather enjoy the God of War games. It's no Ninja Gaiden or Devil May Cry when it comes to depth of the combat system, and Kratos makes Marcus Fenix look like a Marlon Brando performance, but in terms of spectacle and art design it's almost peerless. Last year I said how ridiculously good God of War II looked for a PS2 game, and now I'm pretty much about to say the same thing about the PSP prequel. I mean, just look at it…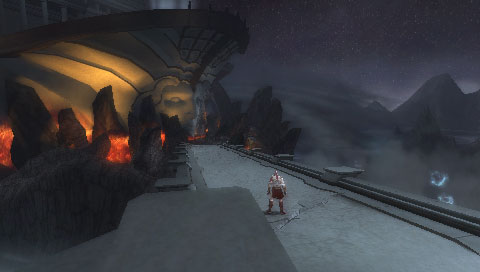 It's so pretty that I'm just going to drop in another screenshot here…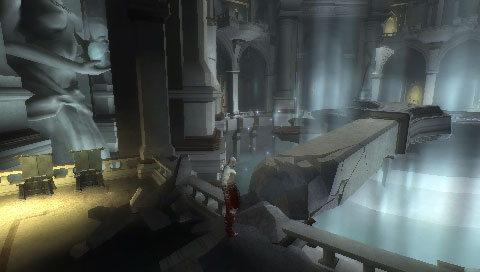 Epic temples with nice lighting are all well and good, of course, but what about enemies? Here you go…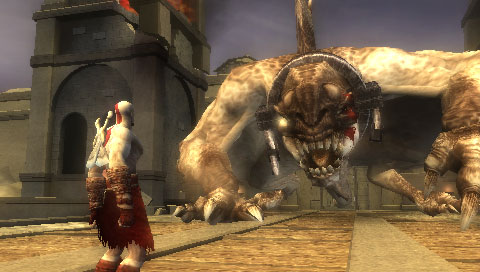 And it wouldn't be God of War without the ludicrous sex scene that mysteriously never gets debated on Fox News. I'll be kind to the working folks and leave that one as a text link.
Wowee. And those don't even show the most epic areas, coming as they do from within the first hour of the game. In other words, the first 25% of the campaign. There lies the major problem with this game.
Chains of Olympus is really short – less than five hours the first time through – and while it's all extremely high quality stuff and I'm already on my second playthrough (admittedly not entirely from choice, given that the save from the promo copy I was playing for the last week doesn't carry over to my retail copy), it's getting slightly annoying when big games all turning out to be slightly slim on the content front. Halo 3, Uncharted, Gears, Heavenly Sword, this…all recent high profile games which are lucky to hit eight hours, and yet still cost £50.
Still, I've always said that I'd prefer a short but great game to an artificially extended and average game, and I'm sticking by that. Chains of Olympus is a proper God of War game – spectacular graphics, a rollicking rollercoaster ride – and I still enjoy them despite the flaws. The games are a guilty pleasure, like watching Independence Day on Blu-ray when I have 2001: A Space Odyssey here, and five hours of great spectacle on a handheld is something to dip into, almost short enough to blast through in one sitting on a long plane or train journey.
What with it being a PSP game, I don't expect this game to do particularly well, but if you're one of those people who's fallen off the PSP wagon and hasn't bought a game in months, this one is well worth a look. With Crisis Core: Final Fantasy VII due this month as well, it might even be worth charging up the thing again.