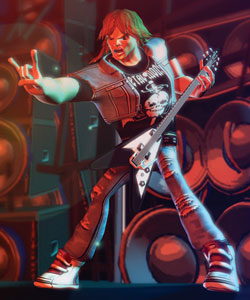 OK, so this was actually announced over ten days ago but I hadn't seen it reported anywhere and somehow missed it, but Guitar Hero is getting a PAL release. This is excellent news not only because publishers have been reluctant when it comes to bringing gimmicky rhythm action games with cool controllers over here, and I can't remember any remotely high profile ones since Samba De Amigo back in 2000. Even that was a rarity and proved to be little more than an investment for the collectors as the limited PAL run has led to the eBay price more than doubling since then.
For those not in the know, Guitar Hero looks like a typical music game but is played on a guitar-shaped controller, a little short of full size. You have five buttons along the neck and a big button to strum which you hit in time with the markers scrolling down the screen. You also have a functional whammy bar that can be used for extra points when holding notes, and also a motion sensor that puts you into a high scoring mode when you swing it vertically. Play it to some covers of classic rock and metal songs which actually sound like the originals and you have a game that makes you feel like you can play guitar, even if you can't.
As with Samba, this is likely to be a shrewd investment as well as a damn good game. The limited US run means prices are already on the rise, and with the game and the guitar controller costing the same as a basic Xbox 360 game (that'll be £49.99) you'll want to get your preorder in on this one as soon as possible.