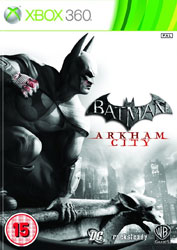 Rocksteady threatened to do it with Arkham Asylum, and now it's done it. Not top my list, sadly, but show everyone that it was a real developer to watch. The first game was brilliant in how completely it shattered the notion that you can't make a good Batman game, which makes how utterly Arkham City tops it all the more impressive, proving that Rocksteady is a real talent and not a one-hit wonder.
All the usual cliches about letting you 'be' Batman hold true, this time with everything that makes open-world games so appealing to me. As well as piles of things to do and find, the clear love for the subject matter is brilliantly evident. What also struck me is the bravery with such popular material, Rocksteady not at all seeming intimidated when the times comes to kill off characters – yeah, comic book death and all that – and putting what is clearly a lot of effort into villains who casual fans might not even know of. It even managed to reference just about every Batman incarnation, from the 1960s series to The Animated Series and more modern cinematic adaptations, all the while creating its own distinct version of the mythos.
Pulling off the next in the series will be the real test, though. Batman: Gotham City? Whatever it ends up being runs the risk of diluting what Arkham City did so well by the possible inclusion of things like the Batmobile in its attempts to one-up this masterpiece. But if nothing else, Rocksteady has earned a bit of faith in its abilities. I can't wait.