It occurred to me recently how hard it is to legally obtain old games. Whereas almost any film from any year is probably readily available on DVD within a few clicks, and the same goes for music, the way that a previous generation of games is almost discarded every few years means that the only way to play, say, an old favourite from the Amiga is either to get lucky on eBay or a car boot, or to just go the illegal route and download the ROM. For all the bad that piracy does in this industry – and it does, no matter how overblown the claims may sometimes be – it's doing an infinitely superior job of preserving gaming history than anyone with the publishers' blessing.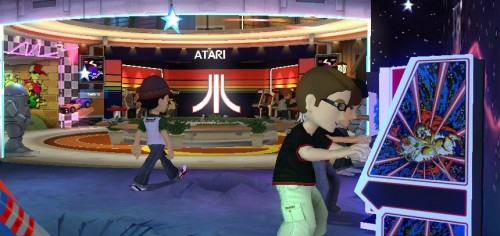 Microsoft's new Game Room is far from exhaustive, of course, but the plan is to grow it rapidly with games that are often otherwise unavailable elsewhere. To be honest, the vast majority simply serve to remind you of how far we've come and that it wasn't any better back in the day, but they're all available for a free play and there are some classics to be (re)discovered. Personally I'm a fan of Tempest and Crystal Castles, and I think that a quid or two is a reasonable price for them in this context.
It's certainly a cool implementation of retro gaming with modern technology, and I think that if we can get some other big names like Capcom, Sega, Midway and Konami in there – somehow I don't think even the biggest optimist expects to see Donkey Kong – and expand the selection up to the 16-bit era, it could be a big hit. I already enjoy visiting my friends' arcades, but let me do it with games that I actually remember playing with them – the likes of Street Fighter II, Mortal Kombat, Golden Axe, etc – and the nostalgia factor is broadened beyond that 40-year-old creepy guy who hangs around in Gamestation. Although I can appreciate the historical value of Adventure and Asteroids, I would argue that I'm not the typical under-30 gamer.
But even so, I love how clearly Game Room is designed for fans. It's so cool to wander into your friend's arcade and see 80s gaming decor and a Bentley Bear sprite walking around in three dimensions, Paper Mario-style, and then to have a crack at their high scores. Everything from the way that rival high scores attack your pride with red neon to how the rewind function maintains the retro theme with a VHS rewinding effect is made to provoke a smile, and it usually does.
A good start, then, to a promising new system. I really hope that Microsoft can expand it and resist the urge to nickel and dime us too much on ultimately pointless tat like the decorations, but hey, I want to be an astronaut too. Let's just hope that it can do the former.