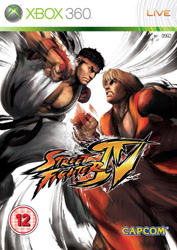 "Oh my god. This is the shit."
That summation, taken from a friend – a huge Street Fighter II fan – after his first few silent moments with Street Fighter IV, pretty much captures how I think most fighting fans felt when they got their hands on it. Street Fighter III was great, but it was such a step away that it was always going to be difficult to love quite as much.
Capcom, seemingly, knew this when it came to doing the sequel thing over again. This wasn't Street Fighter III, and it certainly wasn't Street Fighter EX; this was Street Fighter II's successor.
It's quite simply a magnificent fighting game. While its competitors, which have been more active over the past few years, have built dauntingly huge character rosters with moves lists the length of a toilet roll and more and more realistic visuals, Capcom eschewed such nonsense and took a pleasingly retro tack with this, and it was a big part of what I loved about it. A cherry-picked line-up with some largely inoffensive new additions – I don't count Seth there, obviously – and moves list that fit on a single screen not only made complete mastery both tempting and feasible, but also brought back that old-school chess feeling, where your small pool of resources is well balanced and every character can beat every other one; you just have to work out how.
It was the only game that enchanted me into spending over £100 on a controller – not for Activision's lack of trying – and I'll probably be buying Super Street Fighter IV in a few months if that gets the old crowd in for another round. Capcom did a phenomenal job of actually following up Street Fighter II while keeping the essence and making it feel modern, and so here's my recognition of that massive achievement.