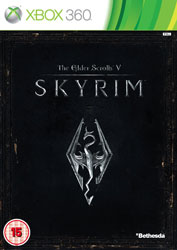 Imagine the plaudits a Bethesda game could boast if it made one that actually worked. Skyrim suffers from fundamental bugs that have plagued this new/old engine through Oblivion and two Fallout games so far, and yet it's still managing to clock up incredible numbers of awards along the way. I can only assume that a Bethesda game with actual polish, once the critics recovered from the shock of it, would result in calls for all other developers to give up and go home for the year.
I have thoroughly enjoyed my progress so far in Skyrim, not so much as a narrative experience but a simple experience. Skyrim – the province, not the game – is gorgeous, and a nice change after the unending green of Oblivion and brown of Fallout 3. It's amazingly atmospheric, from the mist around the mountain peaks to the auroras in the night sky, all of which just makes me wish it would be less bloody buggy.
This might seem like a low placement on the list next to the growing list of GOTY awards that it's getting elsewhere, and that's not even because of the questionable QA job. I just found myself seeing the dice rolls happening under the game's skin more than I'd like and more than I do when playing games from BioWare, the other Western RPG developer that can seemingly do no wrong. I'm so used to seeing the bugs in a Bethesda game that I take it in my stride, but kludgy combat that got in the way of the exploration – the reason why I'm playing this, ultimately – got on my nerves. Next generation, as well as a genuinely new engine from Bethesda, how about letting me stealthily kill someone with a single arrow without having to trudge through 50-odd levels of guards running at me with arrows sticking out of their head?
Skyrim didn't grab me like it did some, apparently, but I still enjoyed what it had to offer. Although I found other Bethesda games more immediately appealing – I say 'immediately' because I'm far from finished with it and may yet warm further to its unique charms – and desperately want some new tech behind these games, this is probably the best of Bethesda's open-world RPGs. And that's high praise.